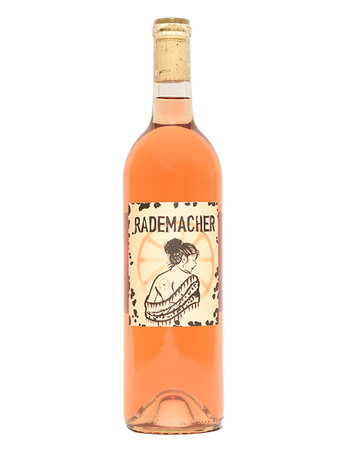 This is a dry, direct press rosé of Cabernet Sauvignon from our Rademacher vineyard. Cabernet Sauvignon gets pressed onto Sauvignon Blanc skins. The wine is aged in neutral barrel for four months.
Wine Specs
Varietal
Cabernet Sauvignon
Appellation
Sonoma Valley AVA
Vineyard Designation
Rademacher Vineyard
Aging
3 months neutral barrel
Wine Profile
Tasting Notes
peach, strawberry, meringue
Vineyard Notes
The Rademacher Vineyard is a small 1 acre vineyard farmed by a close friend Nina Woltering. It was planted by her mother in the late nineties and aptly bears her maiden name. It's 100% Cabernet Sauvignon clone 337. It has never seen chemical applications. It's planted on the western Sonoma Valley next to a Eucalyptus windbreak and a small creek rich with penny royal, black berry, herbs and many happy birds.
Production Notes
Direct pressed cabernet sauvignon onto sauvignon blanc skins. These two macerate for a secret amount of time before being pressed off to neutral barrel to finish. This wine finished fast and strong.
Winemaker Notes
Due to the 2020 fires, this cab vineyard was picked earlier to avoid smoke taint. Given the ripening year, it was also perfect timing. Soaking on white skins have imparted a small amount of golden color to the very light pink juice and given a creamier note on the aromatics.
Food Pairing Notes
any cheese, watermelon salad, sorbet